INSIGHTS DISCOVERY – BUILDING STRONGER TEAM DYNAMICS
"Talent wins games, but teamwork and intelligence wins championships." Michael Jordan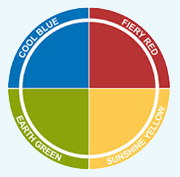 Get an insight into your team
How we respond to change in leadership or team dynamics can be the difference between success and failure.

Whether you're in business or sport, for any team to really collaborate effectively and achieve their goals and business objectives, every team player needs to understand not only their own personality, behaviour, skills and preferences but appreciate those of their teammates.

Only that way can they achieve positive working relationships and by association, greater success, moving forward together to meet the next challenge.
Improving Team Dynamics
By using the Insights Discovery Colour Energy Model, I identify individual preferences and create personal profiles which help individuals appreciate the value they bring. By assessing the individual, I can uncover key issues in the team and diagnose particular problems which may be affecting overall performance.

Through facilitating discussion, exercises and break-out sessions I assess team dynamics and overall effectiveness, creating clear and practical action plans so the team feel empowered to aim higher and achieve greater success. Either through one-to-one coaching, team development or improved sales and leadership skills training.
Intervention from Day 1
Insights Discovery works by analysing responses to a short online evaluator. I measure respondent's preferences to create their own personal profile which identifies strengths, areas for development, communication style as well as highlighting their value to a team. I'll even provide active suggestions they can put into practice from Day 1.
The Insights' programme:
1. Simple: easy to understand, remember and apply.
2. Universal: utilising language that speaks to everyone and captivates the organisation
3. Deeply Insightful: we aim to surpass expectation
4. Positive: empowering individuals to change
5. Fun: Energetic and exciting experiences that won't be forgotten!

Additional support for employee learning and development is also available across a range of areas from personal effectiveness, leadership or management development through to sales performance and improved recruitment techniques.

Test and Measure
Based on the ground-breaking work of Swiss Psychologist Carl Jung, Insights Discovery is constantly being monitored and refined by our in-house research team to ensure ongoing accuracy and effectiveness.

"The Insights Discovery language has swept throughout our organisation because it is fun to learn, inspirational to experience, easy to remember, effective and practical in application.."


Katrina Dunkley
Former Head of leadership and people development
BT Wholesale


Please contact me for further information or to discuss how we can improve alignment and effectiveness in your team.